---
THE ARCHIVES
HONG KONG WASTE MANAGEMENT ASSOCIATION (2018)
AIM Group Chairman, David Knight, attended the Spring Cocktail Party of the Hong Kong Waste Management Association on 30 April 2018 at the Hong Kong Club.


David Knight
with Mr Law, SITA

David Knight with David Pegg
of Arup (Richard Beazley AIM Senior
Consultant in the background)
---
ACEHK – INNOVATION AND CREATIVITY SEMINAR (2016)
AIM Group Chairman, David Knight, attended the ACEHK (Association of Consulting Engineers Hong Kong) Seminar on Innovation and Creativity at the Hong Kong Convention and Exhibition Centre on 29 June 2016. Photo receiving a Carbon Credit Certificate from the Chairman, Francis Kung, on behalf of AIM Group who had sponsored the seminar.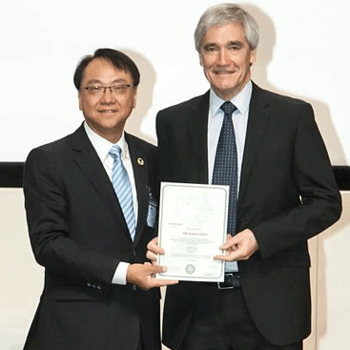 David Knight with Mr Kung,
Chairman of ACEHK
---
APPOINTMENT OF NEW CHAIRMAN (2015)
We are delighted to announce that David Knight has recently taken on the role of AIM Group's Chairman. David has over 40 years' experience, including 35 years in Hong Kong, where he had been involved in the construction of the HSBC Headquarters Building, various infrastructure facilities and numerous other prestigious projects.
He is a project management specialist, with solid grounding in design, construction and management of major works such as roads, bridges, underground railways, high-rise buildings, deep basements, tunnels, and piled foundations. He also has considerable experience of investigation, repair and reporting on failed building materials such as concrete, render and tiling and more recently in waste management.
David's wealth of knowledge, experience and wide contacts in the industry will be invaluable to the on-going development of AIM Group in Hong Kong, the Far East and further afield.
David's appointment is a result of a rotation of the Chairman's position and he succeeds Graham Scott-Burge, who continues as director and senior member of the AIM Group Management Team.
---
INTERNATIONAL EXPERT WITNESS ASSIGNMENTS (2011)
Our Expert Witness roles in the international arbitration arena are expanding. AIM Group Director, John Costello, was appointed as an Expert Witness in respect of Civil and Geotechnical Engineering issues for an International Arbitration in Sri Lanka during 2009-2011. The project was a 60 km Expressway project in Southern Sri Lanka. The case involved the appointment of a Tribunal of three internationally distinguished Arbitrators, and was the first of its kind in Sri Lanka. The Arbitration hearing was held in April 2011, and the Tribunal's Award is currently awaited.
John has also been appointed to act as an Expert Witness on Geotechnical Engineering issues on another international Arbitration case involving deep excavations in Singapore which is likely to involve input during 2011 and 2012.
Our Group MD, Ballah Dawelbait, continues to be involved in numerous ADR and/or arbitrations this year as well, some of which were conducted under the International Chamber of Commerce Rules. His most recent appointment was as a 'tribunal sole expert' in arbitration for a project in Doha with the hearing just concluded in Paris at the Hearing Centre of the International Court of Arbitration. He continues to be involved in various ADR initiatives in Qatar, UAE and Saudi Arabia as well as the Far East.
---
REGIONAL DIRECTOR – HONG KONG (2010)
To meet the demand for our expert services, Colin Moreby, Regional Director – Hong Kong and Asia, continues to be responsible for the day-to-day operation of AIM Group's Head Office in Hong Kong, as well as our assignments throughout Asia.
Colin can be contacted at tel: (852) 2572 6533; fax: (852) 2572 7966 and/or email: cmoreby@aimgrp.com
---
AIM GROUP SINGAPORE
To align our carefully managed expansion plans with our medium-term growth objectives we have opened a subsidiary office for AIM in Singapore as of 2013.
Singapore as we know is a thriving knowledge hub which has been steadily and confidently on the rise. With this move we aim to position ourselves for fresh and new opportunities in the growing ASEAN region market. In so doing we would be able to share in Singapore's fast development and its need for expert services in the construction and infrastructure fields.
---
NATIONAL WATER COMPANY, SAUDI ARABIA – EXPERT SERVICES (2009)
AIM Group has successfully completed this major assignment for the National Water Company in Saudi Arabia for the provision of Expert Services to resolve various issues related to a sewerage construction Project worth over US$5 billion.
AIM's Experts' roles included projects reviews; troubleshooting; leading and negotiating project recovery plans including MOUs, supplemental agreements; technical advice on tunnels; pumping stations; outfalls; packaged plants and sewerage systems; together with high end project management services, claims assessments and commercial settlements.
---
COMPANY PROFILE (2009)
As a company logo, AIM Group has adopted an eagle, which in terms of heraldic symbolism, signifies "a man of action, ever more occupied in high and weighty affairs, and one of lofty spirit, ingenious, speedy in apprehension and judicious in matters of ambiguity". We strongly believe that this symbolism reflects the standard, attributes and calibre of our Experts and highlights the level of expertise we can provide to our clients.
---
Hong Kong Infrastructure Services Directory for Beijing Olympics 2008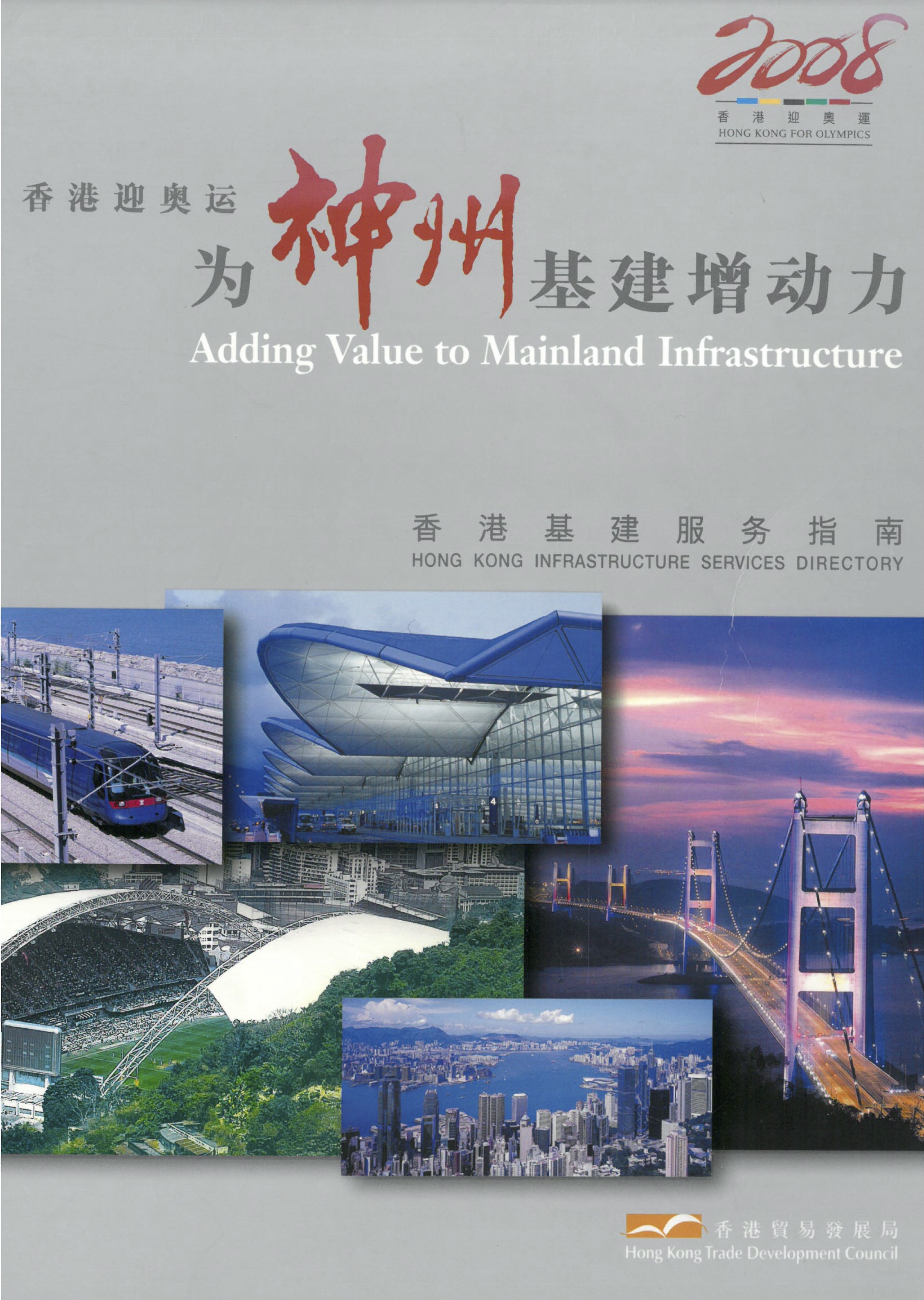 项目经验
AIM Group的客户包括基建建造商/营办商、顾问公司、承建商、建筑法法律事务所、银行、铁路/机场营运商及商业项目发展商。获选为二十世纪十大建筑物之一的香港国际机场,连同核心计划部分,总值约达二百亿美元。 AIM Group不仅曾为该机场提供规划及管理服务,在机场启用后,亦积极协助排解合约纠纷,处理复杂的设计、建筑及规划事宜,让问题透过协商得以解决,无须斥资仲裁。AIM Group参与的项目尚有九广铁路支线工程及香港策略性排污发展计划等。AIM Group的业务现已扩展至亚太区如泰国、南韩等地,并且与北京及新加坡保持密切的业务联系。
专业知识
AIM Group旗下专才均是各国主要工程学会的资深成员,资历及专业技术广获承认。AIM Group是香港顾问工程师协会成员和香港注册工程顾问,具资格为香港的大型基建工程提供项目及建筑管理服务。AIM Group亦是英国商会的机构成员,并设有庞大的顾问资料库,储存了约二百名专家及澳洲、英美等地著名工程协会的资料。AIM Group 能从中物色特别专才,结合集团的既有资源,为客户提供专业、优质的服务。
公司背景
AIM Group Expert Services隶属香港AIM Group Limited,提供建筑及工程基建方面的专业服务。AIM Group精英汇聚,拥有项目管理、项目评估、建筑管理、建筑规划、界面管理、合约管理、争端调解、土力工程及价值工程等多方面的专才,为客户提供专业意见,协助他们实现目标,获取成功。AIM Group的骨干人员以香港及东亚国家为基地,在亚太区发展逾二十年,曾参与多类不同的工程及管理项目。
---